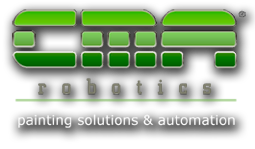 The two Robotic Cells supplied from CMA Italy were installed to assist and improve the current methods of Spray Finishing at The Senator Group. Situated at their seating site in Accrington Lancashire were they currently produce over 350,000 seats per year.
GR-6100 6 Axis scanning Robot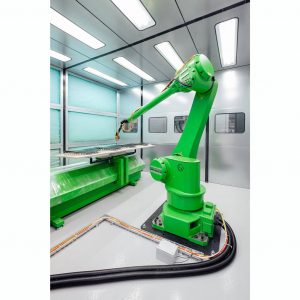 We asked Jack Jones (Continuous Improvement Project Manager at The Senator Group) to summarise the reasoning behind the purchases of the spraying cell and the benefits going forward for Senator Office Furniture.
The Task gluing department at The Senator Group has been operating at maximum capacity for a number of years which has lead us to outsource around 50% of the production demand. The justification of the robot was calculated mainly from bringing back the majority of this outsourced work in house. This allows us full control & flexibility over the production process with the added bonus of lowering the overall cost (an estimate of 55-65% of out sourced production will slowly be introduced back in house).
The new process segregates operatives from coming into contact with the adhesive, increasing the safety of the process.
Due to the process now being automated we can ensure the quality is consistently within our standards as the process is perfectly repeatable every cycle.
The system is very simple & user friendly for operatives. The products are positioned on the shuttle board and transported under a 3D vision scanner. The scanner analyses the products 3D dimensions and communicates this information to the robots control panel. The software recognises the parameters of the program selected and calculates how to apply the adhesive to the product. This data is then transferred to the 6 axis robot and the adhesive is applied.
To put it into basic terms, Vicky (the name we have given to our Robot) is quicker, perfectly repeatable & safer (looks kind of cool too)!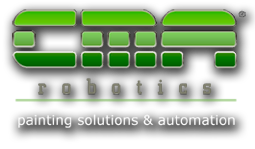 We'd Love To Hear From You!
Contact us today at sales@mpsmachines.co.uk or give us a call on +441162401795 (phone) / +447799896769 (mobile).